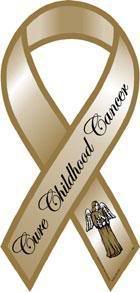 If Cancer is the "C" word no one ever wants to hear uttered in their doctor's office, it is guaranteed to be an even bigger fear when it is associated with the children in your life. With thousands of children being diagnosed each year, there will always be a need for awareness and resources for scientists to find a cure. September is National Childhood Cancer Awareness Month and every little bit counts. From visiting children's hospitals to donating teddy bears to making socks for little patients' feet, giving a little bit of your time is just as appreciated as giving part of your paycheck for the cause of researching childhood cancers.
Because we were all children once, imagine how hard it would be to receive a damaging diagnosis during prime growing years, and see how strong these children are to face their illness, most without fear. This September, stay aware of the effect childhood cancer has on everyone.
Fast Facts About Childhood Cancer
-This year, over 9,000 children will be diagnosed with cancer.
-Cancer is the leading cause of death among children.
-Over 1500 children died of cancer in 2005.
-Children tend to develop different types of cancer than adults.
Please help us find a cure by going
here
and donating.